About Edgeworth Park at New Town
This all-new community provides the combination of service-rich, hospitality-based support and the amenities that residents desire—whether they need assistance with the activities of daily living or specialized memory care. Edgeworth Park at New Town captures the feeling of simpler times.
Every member of our team is passionate about serving seniors and thus is committed to making a meaningful difference in the lives of our residents and their loved ones. We recognize that the expectations of today's consumer are rapidly changing, and as a leader in the industry, we are dedicated to providing exceptional culinary experiences, innovative programming, and technology, as well as high-quality coordinated care to help our residents stay healthy, engaged, and fulfilled.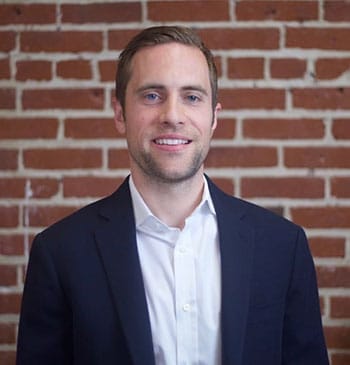 In April 2016, Adam leveraged his 15+ years of experience to launch Solera Senior Living, a next-generation senior living operations, development, and investment company with the goal of elevating the resident experience. At Solera, Adam identifies strategic growth opportunities, sets the vision for the operating model and program design, sources and structures capital relationships, evaluates innovative technologies, and is responsible for building a highly engaging culture. 
Adam received his BA from Cornell University, School of Hotel and Restaurant Management, and his MBA from Northwestern University's Kellogg School of Management. Adam credits the constant love and support from his wife for his success to-date in building Solera. Outside of work, Adam enjoys spending quality time with his wife and three incredible children, two boys and a girl, socializing with close friends, traveling, reading, skiing, golfing, and fitness. 
Edgeworth Park is curated by an outstanding team of managers and staff
The Edgeworth Park community boasts an on-site staff of excellent individuals. Our team is comprised of: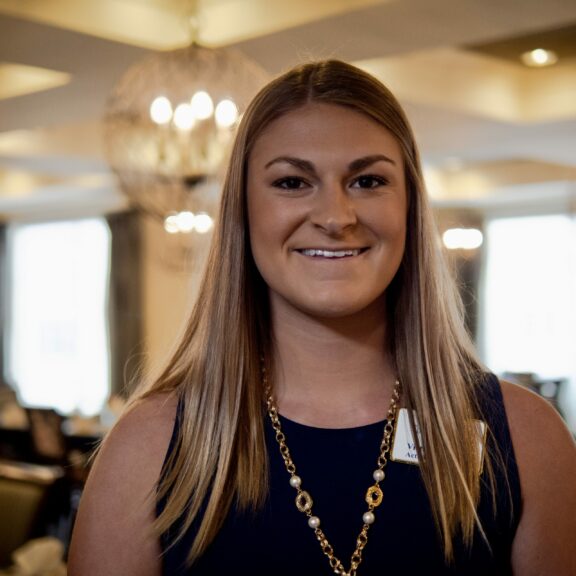 Victoria Brinkley, Executive Director
Victoria Bowen knew it from the moment she first walked through the doors of Edgeworth Park four years ago:  this was the place for her. First as an intern, then Activities Director, then Sales and Marketing Director and now Executive Director, Victoria can't say enough about how Edgeworth is family. How it has the small-town feel where everyone knows each other and cares deeply for one another. As she puts it, "I gained a bunch of grandmas and grandpas. I love hearing their stories and learning from them." In fact, Victoria's favorite part of her job is meeting with families and listening to them, and helping them find their home in the Edgeworth Park community. And it doesn't stop there for Victoria, as she continues those relationships, doing everything she can to make sure they are happy and living every day exceptionally.
Having lived in Williamsburg all her life and graduating from James Madison University, Victoria is grateful to be close and connected to her family. She and her fiancé love to camp with family, friends and River, her German Shorthaired Pointer. She also loves Italian food—bring on the carbs!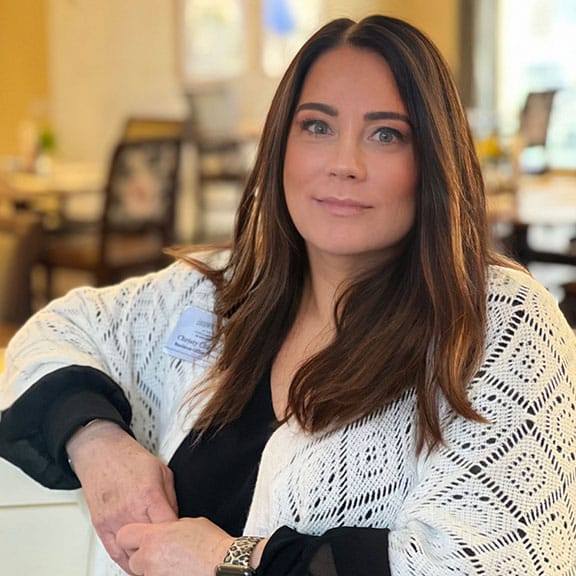 Christy Chapman, Business Office Director
Christy happens to be very good at the skills that make an excellent business office director. She's worked in bookkeeping and human resources for 25+ years. But it's actually the passion she has for seniors that drew her to join Solera Senior Living.
"I love working with seniors," she says, "and I also love working with my co-workers and helping them grow with Solera." She cites compassion as the core value that stands out when it comes to serving residents of Edgeworth Park. "Having compassion for our residents, their families and our co-workers is so important."
When she's not wearing her business hat, Christy enjoys gardening, listening to music, reading, and spending time with family, as well as pets Bella, Sophie, Willow and Petey. A perfect vacation would be a trip to England, Scotland and Ireland.
Fun fact: Christy says she can't sing…but she does anyway. A lot.